Asking for a few scraps of paper from the bartender, Joao Reis excitedly stands from the stool and starts drawing out a briar root. Explaining how briar grows, he starts by marking the center and then sketches the briar's boundary, detailing how the grain is created and how the briar cutters read the root to get as much out of it as possible. Some of his friends at the bar, used to Reis' exuberance, roll their eyes and chuckle. Slightly embarrassed, Reis breaks into an infectious smile and sheepishly says, "I'm sorry, it's just that I'm mad about making pipes."
No matter whether Reis has a madness for pipes, an obsession, or just a strong passion, his love for wood and pipemaking had an early beginning in the 28-year-old's life. Growing up in Lisbon, Portugal, Reis made his first pipe when he was just 7 years old after seeing Popeye cartoons. Taking pieces of cane that his father had brought home, he fit them together and had a small pipe just like Popeye smoked.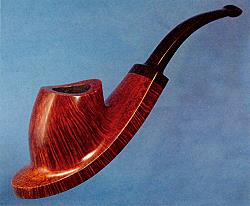 From that moment, he played with cane and other woods, making little knick-knacks. When he turned 15, he started working in a furniture factory, making custom-ordered furniture items. With a secure job, Reis bought his first pipe, a Chacom.
Reis enjoyed smoking his pipe and added others to his collection. Although he was a woodworker, he didn't think about making a pipe until his brother, Alexandre, introduced him to Jose Manuel Pingalho, a member of the Portuguese Pipe Club.
Pingalho and Reis talked about pipes for a few minutes before Pingalho asked Reis to make a pipe for him. Reis agreed but warned Pingalho that he did not know how to make a mouthpiece. Pingalho assured Reis that it wouldn't be a problem, handing him a triangular saddle mouthpiece that he had removed from a Butz-Choquin billiard that was in his collection.
"Jose showed me some of his pipes. They were beautiful and very different from what I had seen in the shops. He asked me to make a pipe for him and told me that if I did a good job, then he would introduce me to other pipe collectors."
Using cherry wood and a hand drill, Reis copied the pipes that he had seen at the shops. It took him more than a month to drill the holes and shape a pipe correctly, but eventually he fashioned his first pipe a billiard.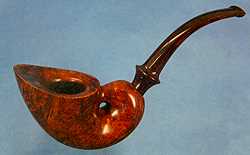 "At the time, I didn't even know that the shape was called a billiard," Reis admits. "I was completely unaware of the shape names, and I was just copying shapes that I had seen in Lisbon's pipe shops. It was very fun but time consuming."
Pleased with Reis' first effort, Pingalho invited him to come to pipe club meetings.
"I really began my education about pipes in 1999 when I became involved in the Portuguese Pipe Club," Reis says. At the first meeting that Reis attended, Pingalho showed off his pipe to another member, who promptly asked Reis to make two pipes for him. Within months, Reis was a full-fledged member of the pipe club and secured a supply of briar that allowed him to make pipes for nearly everyone in the club.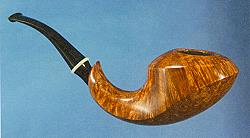 "I made straight pipes, bent pipes, whatever they asked me to make, and I tried to make it. What an education," he says.
Exclusively using his hand drill and hand files, Reis continued to make pipes in Lisbon for four years. In 2003, Barcelona, Spain, was host to the European Slow Smoking Championship. Several of the Portuguese Pipe Club members planned to attend and invited Reis to come along to sell some of his pipes.
Arriving at the show, Reis met Danish pipemaker Kai Nielsen. Nielsen had a table arranged to sell his pipes. He also brought along some of his pipemaking equipment and demonstrated some of his techniques. Reis was stunned.
"I was amazed at how fast and how precise he could work," Reis explains. "At that time it would take me three or four days to make a pipe and they weren't really special. He was making these beautiful pipes in no time at all. I asked if I could learn from him and he invited me to Faaborg, Denmark, to see how he worked."
Reis made his first trip to Denmark at the end of November 2003 and spent a month learning from Nielsen. Reis returned to Portugal with some blocks be had already drilled so his work would be easier. Four months later, Reis came back to Denmark. This time, he stayed for six months.
"I learned the basics of everything from Kai; he is my mentor," Reis says.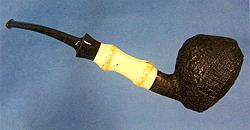 "He taught me how to use a lathe to make the holes fit the pipes. I also learned how to make the shapes and how to make mouthpieces by hand. Before I came to Denmark I did all the steps by hand. Of course, we are still making all of our pipes by hand, but we are using machines to carry out the simple processes, such as making the tobacco chamber and the air hole. Drilling can be done by hand, but the lathe makes it very easy and precise. I also learned a lot about Danish design-how pipes are shaped. I learned to work with a sanding belt."
In addition to learning from Nielsen, Reis visited other Danish pipemakers, such as Poul listed and Tom Eltang.

(Continue to PAGE 2 of the article)

(Return to the Joao Reis Home Page)