(Kai Nielsen Article CONTINUED)

Japan has a different aesthetic. "The Japanese market," says Nielsen, "prefers nice, small, elegant pipes."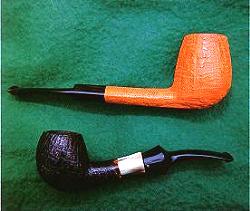 The United States, though, is now his largest market. Demand is higher than production, but Nielsen sees no way around that. "I will probably make fewer pipes next year," he says. His primary concern is the quality of his pipes, not the quantity, and he will be concentrating on maintaining the quality that so many collectors have grown to appreciate. In that regard, his name is perhaps now better known than that of his famous pipemaking father, Viggo Nielsen.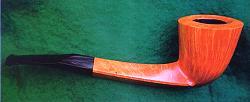 Many of us remember that name from the late-1960s through the mid-1970s when Viggo's pipes were available through the Iwan Ries shop in Chicago.His pipes have long been popular in Germany and throughout Europe. Viggo stopped making pipes only about a year ago. Before that, he was still making about 50 to 75 pipes a year, even after nearly 60 years as a pipemaker.
Viggo started his pipemaking career in 1945, working with native Danish woods because briar was in short supply during and following World War II. He was finally able to acquire some briar in 1951, the same year his son Kai was born, and he started making briar pipes. He went on to found the Bari pipe factory, where both his sons, Kai and Jorgen worked to make extra money, and where Kai became a full-time Bari employee in 1972. Both sons would go on to become world-class pipemakers in their own right, but in those early days, they worked to learn the trade at Bari. Kai and Jorgen Nielsen didn't so much learn pipemaking from their father, Kai says, as with their father. "None of us were very familiar with handmade pipes back then," he says.


"We had to discover many things together. Of course, my father was the most experienced with pipemaking, but not with handmade pipes. We all learned together, experimenting until we got it right." It was during those years that all three family members worked together to produce a special line of pipes. Pipes that were stamped "Viggo Nielsen" were made by Viggo alone; those stamped "Nielsen" were a combined effort. Viggo Nielsen pipes are graded Old Briar, Flame Grain and Straight Grain, in ascending order of grain quality.
When Viggo sold the Bari factory, the three Nielsens started their own workshop. Those early days were not easy. Pipe markets had to be found for the new pipes. "With my father, we just started driving around Germany, looking for tobacco shops," says Nielsen. They would stop wherever they could find a shop and show their pipes. Some of those shops became long-term accounts that continue to buy Nielsen pipes to this day. Others turned them away. It was a difficult way to market a craft. "I know most of the shops in Germany now," says Nielsen. "There are about 200 top shops there. But I didn't know them back then."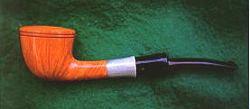 That initial family venture did not last long, unfortunately. They were not able to make enough money to survive. "It wasn't terribly important to Viggo," says Nielsen. "He had just sold his factory; he didn't need the money like Jorgen and I did. We had to find other ways to make a living." Jorgen became a truck driver, among other things, while intermittently making pipes. Kai tried a few different things, too. "I probably tried different jobs five or six times. I worked for a restaurant, one similar to McDonald's in the U.S. That was not the most fun I had. I helped build houses for a while, carrying bricks for a bricklayer. That's good work; you're very tired when you get home." But Nielsen always came back to his pipemaking. Now both he and his brother, though they have separate shops and separate lines of pipes, have found that their pipemaking skills have reached an avid clientele.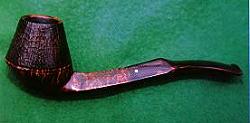 "I use mainly Corsican briar, air-cured," says Nielsen. He also uses primarily vulcanite mouthpieces, manufactured in Germany. "There's definitely a difference in the German vulcanite. It doesn't oxidize as quickly as other vulcanite." He will occasionally use acrylic on a few pipes for the German market. but he prefers vulcanite. Of particular importance are the tenons, for which Nielsen utilizes Teflon. "All my pipes have Teflon tenons," he says. "Teflon doesn't fluctuate in size with changes in the weather-it keeps the mouthpiece tight in the heat or the cold. There have been a lot of fishermen around here, standing in the cold, fishing, and suddenly finding they have only the stem of their pipe in their mouth, while the bowl is sinking to the bottom. That won't happen with Teflon tenons."
Nomenclature on Nielsen pipes is different for the U.S. market than it is for Europe and Japan. In the U.S., grade is designated with the letter V. One V reflects the lowest grade and four Vs the highest. The "Jewel of Denmark" stamp is reserved for only the very few and finest pipes that leave Nielsen's workshop. Nielsen pipes currently range in price from about $250 to $900. Outside the U. S., the "Jewel of Denmark" stamp still represents the highest grade, but the letters A, B, C and D reflect the other grades, in descending order.
Nielsen made 600 or 700 pipes for a worldwide market last year. "I don't really keep track, but that's about right," he says . "It's difficult to make the best pipe possible out of each briarl block if I make more than that." He intends to reduce that number to 300 or 400 next year. "I want to concentrate on high-grade pipes."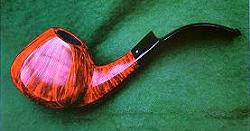 "Every pipe is different," he says. "I look at the briar block, and I have ideas about what my clients would like, but I mainly leave it up to the briar. That helps me find new shapes sometimes. Mistakes can help sometimes, too. Most often they end up being thrown out, but sometimes some beautiful pieces can come out of what at first seemed like a mistake. That's the beauty of briar."

Kai Nielsen pipes, Jorgen Nielsen pipes and a very few Viggo Nielsen pipes are available at select tobacconists thoughout the United States. To find a shop near you carrying Nielsen pipes, contact Monjure International USA, 204 Shadowlawn Drive, Jamestown, NC 27282; phone: 336.889.2390; email: pipadolce@aol.com; Web site: www.monjureinternational.com.

(Click Here to Return to the Previous Page)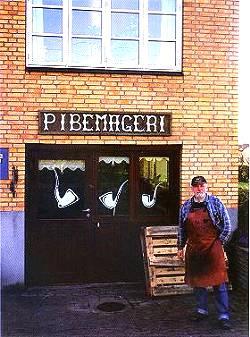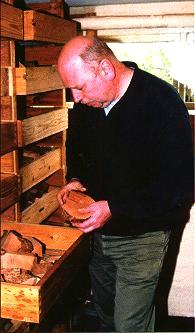 Jorgen Nielsen (pictured left)

Jorgen Nielsen started making pipes at the age of 10 in the Bari pipe factory, learning as his brother Kai did. Today, he maintains his own workshop, just 20 minutes from that of his brother. Jorgen has his own individual style, both in his pipemaking and in his outgoing personality.




Friendly, full of good humor and charismatic, Jorgen Nielsen makes pipes that are as individualistic as himself. Impeccably finished and creatively interpreted, his pipes are growing in popularity throughout the world.