The train ride from Copenhagen, Denmark, to the Island of Fyn, where Kai Nielsen has his pipe workshop, is a joyful experience. Of primary importance is the fact that the train has smoking cars-an essential feature for a two-and-a-half hour ride. But it also provides a spectacular view. Luxurious with glass windows and comfortable seating, the train floats through the Danish countryside, and the long bridge over the water to the island makes for a most relaxing and picturesque trip. Danish residents depend heavily on trains for transportation, so simple comforts mean much, including the simple comfort of tobacco. Denmark is still fairly civilized in regard to smoking. You can smoke in restaurants and on the street without appearing to irritate anyone. Nonsmoking regulations are beginning to insinuate themselves, unfortunately, but they are just regulations; the people don't seem to stand behind them. Unlike the U.S., where anti-smokers sometimes revel in a role of enforcement, complaining at the site of a pipe, lit or unlit, the Danish people remain tolerant, rational md friendly toward smokers.



Kai Nielsen's workshop is tucked
away in farm country, surrounded by fields I
near and far and by flowerbeds that lend
vigorous color to the perimeter of the
house where his pipemaking occupies the I
entire first floor. The entryway features
large images of pipes stenciled on the windows, and the first thing one notices inside is the earthy emanation that briar releases when it is being worked on. It is a woodsy smell that permeates every corner of the shop, a primordial smell, a smell that
would have satisfied the imaginations of
the Druids.


The shop comprises several different rooms. One small area, containing the lathe and disk sander, is bright with suinlight from shoulder-high windows. Another room has huge, recently delivered bags of briar resting against one wall, a drill press near the center and a buffer on the far side. Through a doorway is a full wall of briar cribs, floor to ceiling, filled with blocks that are air-curing through the years necessary before they may be fashioned into working pipes.

The largest room is a business office with a computer station at one wall, the usual file cabinets, a display table under some spacious windows and, in the center of the room, a large, commodious desk, where Kai Nielsen sits with dozens of freshly polished new pipes spread before him. He is stamping them by hand, one by one, with appropriate nomenclature, after which he gives them one final shine with a polishing cloth before placing them carefully into pouches and packing them up for export to those countries that appreciate this level of workmanship.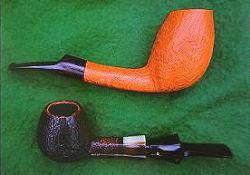 "Not Denmark," he says, smiling. "You
can't sell very many expensive pipes in this country. The taxes are very high. I have a few pipes in tobacco shops here and there, but mainly, my pipes go to Germany, Japan and the United States. I sell enough pipes outside of Denmark; I can't make more."
He is hospitable, friendly and somewhat reticent, he speaks softly and doesn't seem to enjoy talking about himself, though he warms up on the topic of pipes. He's a quiet man who speaks more eloquently through his work than his words, and with more than 30 years of experience behind it, Nielsen's work says volumes about his dedication and talent.

It's been only three years since Nielsen attended his first American pipe show and introduced his pipes in the U.S. "It was in Chicago," he says. "Lots of other Danish carvers come to the Chicago pipe show, and they recommended I attend. It was a good show. The people are very friendly and knowledgeable. They look for harmony and balance and good wood. It's nice to see smokers who are interested enough in pipes to learn about how they are made. They appreciate the art in a pipe."
Three years isn't long, but Nielsen is already building a reputation in the U.S. "I send 200 or 300 pipes a year, and they all are sold, so I guess people like them," he says. Germany and Japan are already established markets for him. "Germany used to be my biggest market, but America has taken over. Prices are not what they used to be in Germany. They are having money problems, more unemployment."
Another change in the German market is the established preference for 9-millimeter filter pipes, says Nielsen.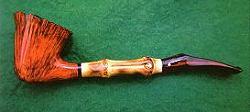 "The pipes I make for Germany are usually a little bigger, so they will look right with the size of the shank that is needed for a filter. But more Germans are now smoking nonfilter pipes, including bamboo-shanked pipes." Nonfilter pipes are not taking over in Germany, he says, but there are definitely more people there enjoying nonfilter pipes.

(Continue to PAGE 2 of the article)

(Return to the Kai Nielsen Home Page)