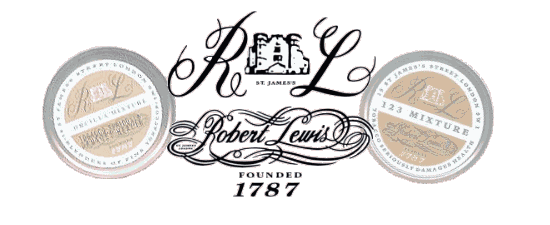 Robert Lewis, founded in 1787, is the longest established tobacco merchant in London and one of the oldest in the world. Christopher Lewis, a Welshman, originally started his retail tobacconist business at 14 Long Acre in Covent Garden. Robert Lewis, a relative of Christopher Lewis, later became the administrator of the firm. As the buiness flourished, the firm moved several times and finally located at 19 St. James's Street, where it is trading today. In 1997, Robert Lewis received a Royal Warrant of Appointment to Her Majesty Queen Elizabeth the Queen Mother.

We are very proud to introduce the Robert Lewis "Special Tobacco Blends". Until now, these fine tobaccos were sold exclusively at the Robert Lewis shop on St. James's Street. The wonderful mixtures are the finest available and are expertly blended from only the very best tobaccos. We thank you for looking, and if you have not tried Robert Lewis tobaccos, try them now as we are confident that you will experience total enjoyment as many have for over a century.
(Note: The label on the Robert Lewis tobaccos contains a drawing of St. James Palace - the home of Prince Charles which is 100 yards from the shop.)
Browse through the listings below and feel free to contact us with any questions. Enjoy!

(Note: All prices listed below are at the Manufacturer's Suggested Retail Price)



(All blends listed below are available in our online store.)





Lewis Orcilla Mixture

(Code/Size/Retail)



8001...50g...24.00

Class

Oriental

A Classic Oriental Blend. This incredible mixture made from the finest tobaccos available has been a favorite of discerning smokers for over a century. A nice combination of Orientals and Virginia tobaccos(of several grades). The Orientals provide good spiciness and the Virginias supply additional body and aroma to this medium strength blend.





Lewis Wingfield Mixture

(Code/Size/Retail)



8002...50g...24.00

Class

Matured Virginia


Wingfield Mixture

. In this mixture, fine Virginias have been carefully blended with sun cured and dark leaf. This is a very cool smoke with outstanding taste. This blend was named after Walter Wingfield, the inventor of the original version of lawn tennis and a long time customer of the Robert Lewis shop.




Lewis Tree Mixture

(Code/Size/Retail)



8003...50g...24.00

Class

English

Tree Mixture. A very fine Latakia mixture expertly blended to produce a blend that is in a class of its own. Originally this was a "private blend" supplied to a frequent customer - Colonel Tree. A superior marriage of Latakia, Virginia, and Oriental tobaccos-especially Latakia. Highly recommended.




Lewis 123 Mixture

(Code/Size/Retail)



8004...50g...24.00

Class

English With Cigar Leaf

123 Mixture. This incredible blend contains superfine Havana seed leaf. A delightful mixture with the taste and aroma of a fine Cuban Cigar. This full-bodied blend is one of the more distinguished of its kind on the market. A nominal measure of Virginia and Latakia tobaccos are added for character.